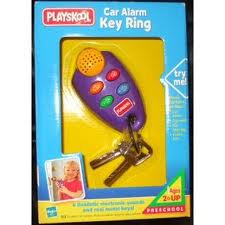 Car Alarm Key Ring is a Playskool Key Ring. It includes attached keys, a clip, and a sound box of 4 electronic sounds. It was created in 1996. It comes in different colors, including silver, yellow, purple, red, etc.
List of sounds
Edit
Car Starting
Traffic Jam
Doorbell
Car Alarm
Spaceship (1996 version only)
In the 1999 version, there are four different colors for the sound buttons: red, orange, green, and blue. The color is variable for each button.